the icing on the gingerbread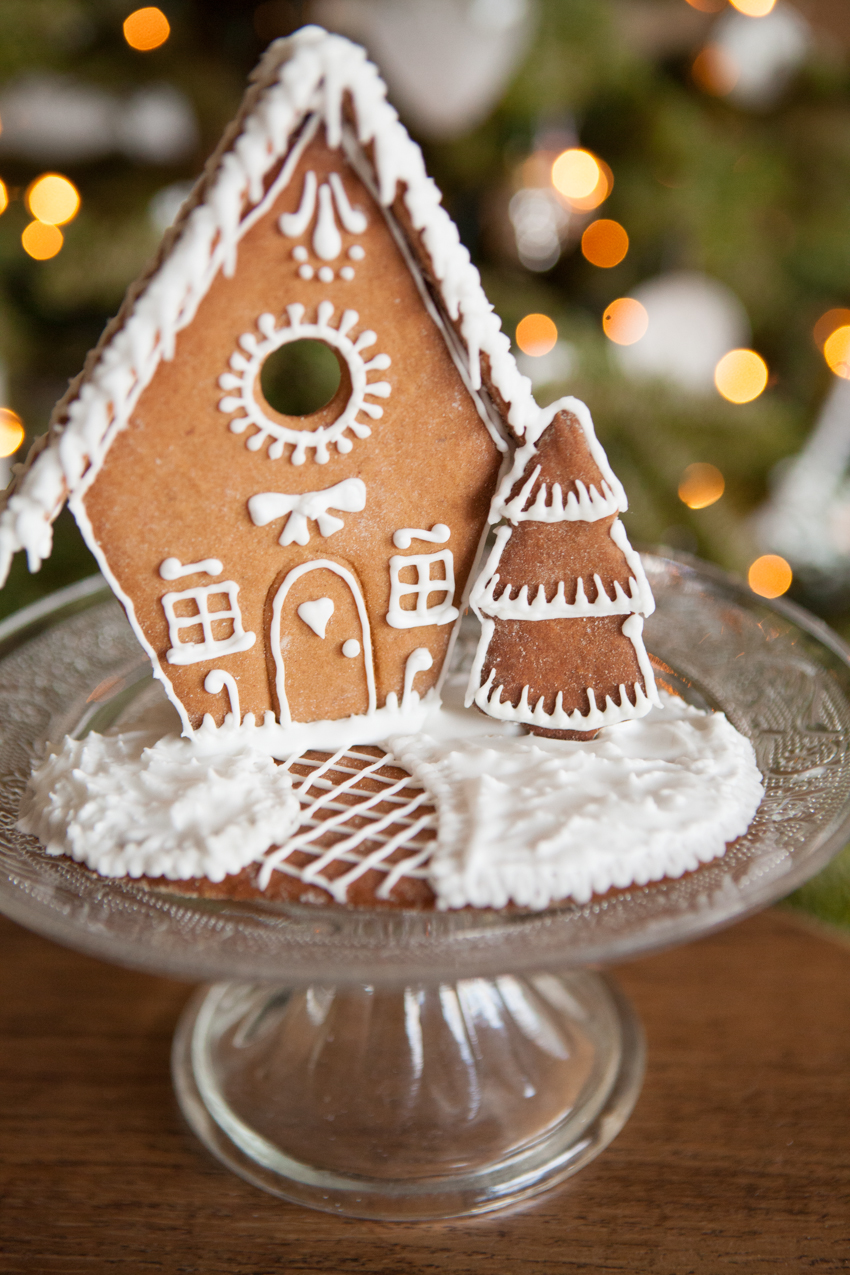 There are certain things that I look forward to every year, maybe with getting older you notice the years passing quicker so it seems more important to mark the seasons and celebrations! The last post about the pumpkin carving has to be one of my favourites, possibly on a par with gingerbread decorating for christmas. Just like the pumpkins I have found that what makes all the difference in your results (besides the practice from doing it a few years in a row) are the tools, and when it comes to icing, a fine nozzle is just the thing to take it from clumsy and frustrating to something enjoyable and creative. The consistency of your icing also makes a big difference so it's worth reading up on that, it's worth getting it right at the start to make your life infinitely easier!
The recipe I use this year was a Delia one, it does make a very well behaved dough that stood up to fairly thin rolling, it has treacle in it as well as golden syrup which gives the gingerbread that lovely richness and deep colour I remember from when I made it with my mum, and wow, the smell in the kitchen when you have the sugar and syrup and spices and orange zest all mixing together, it's nothing short of magical.
These days I'm more about the decorating than the construction so I prefer to create a gingerbread house 'facade', rather than the full thing. Much less effort, and they are easier to display – you can even put one in a jar: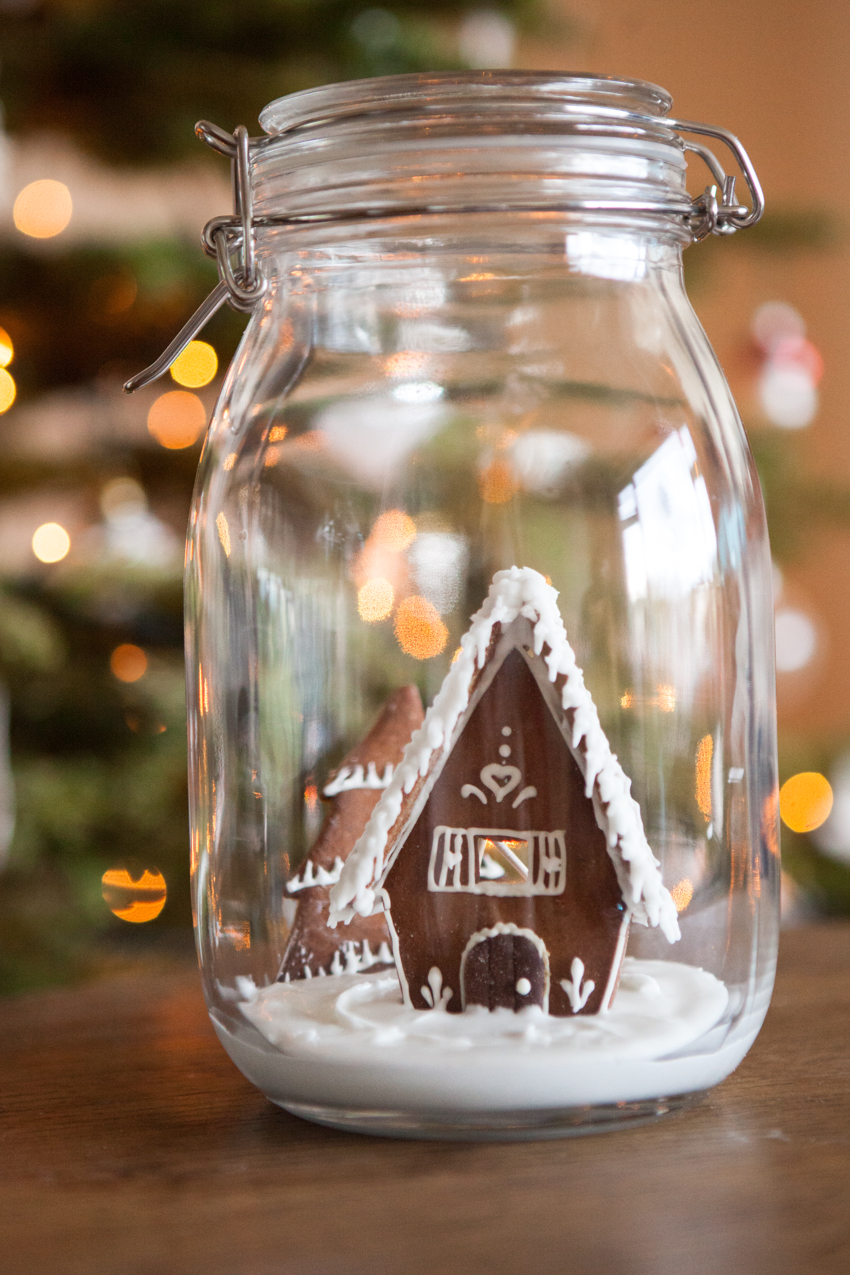 Besides the houses I made quite a lot of cookies, using fairly simple cutter shapes to give me more scope for decoration. The scalloped ones are great for iced snowflakes because you can use the scallops as guides for your snowflake 'branches' and other designs: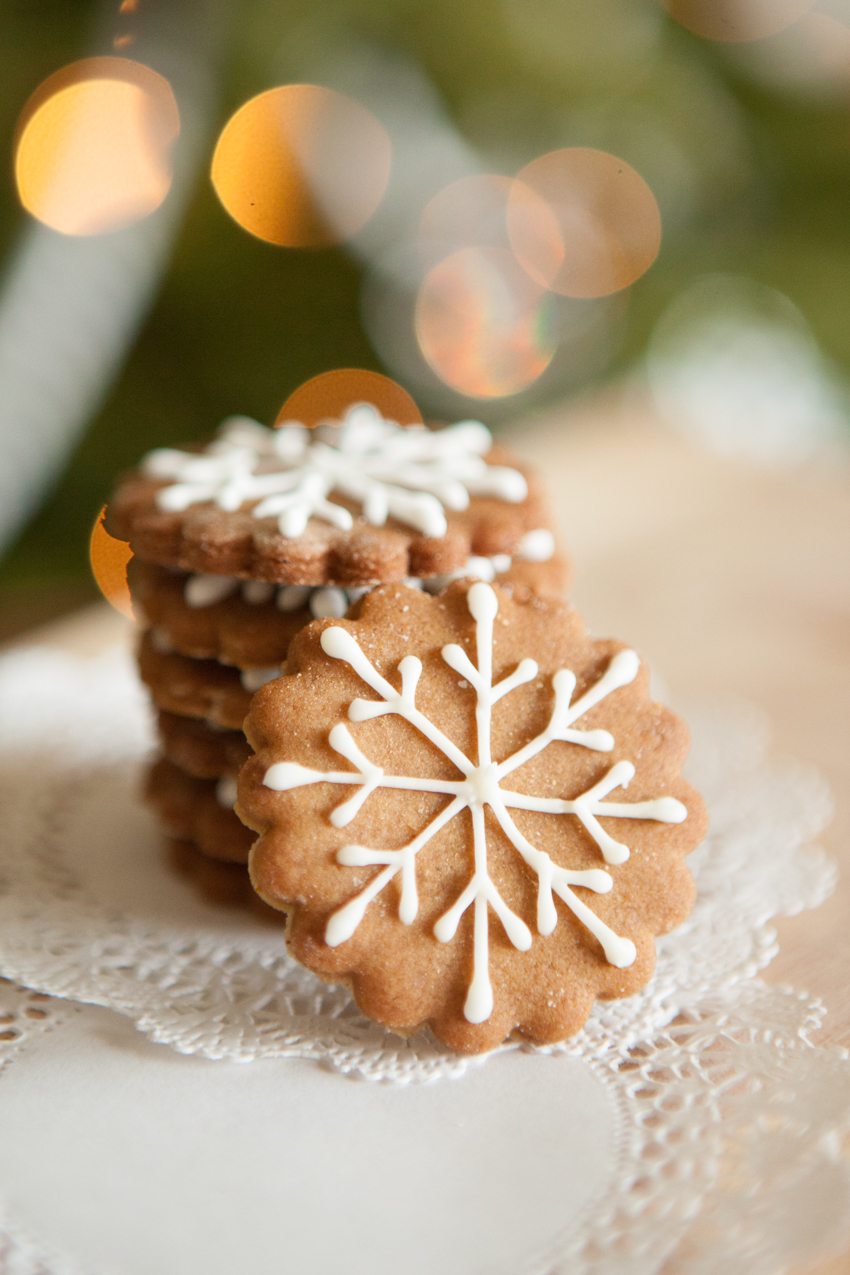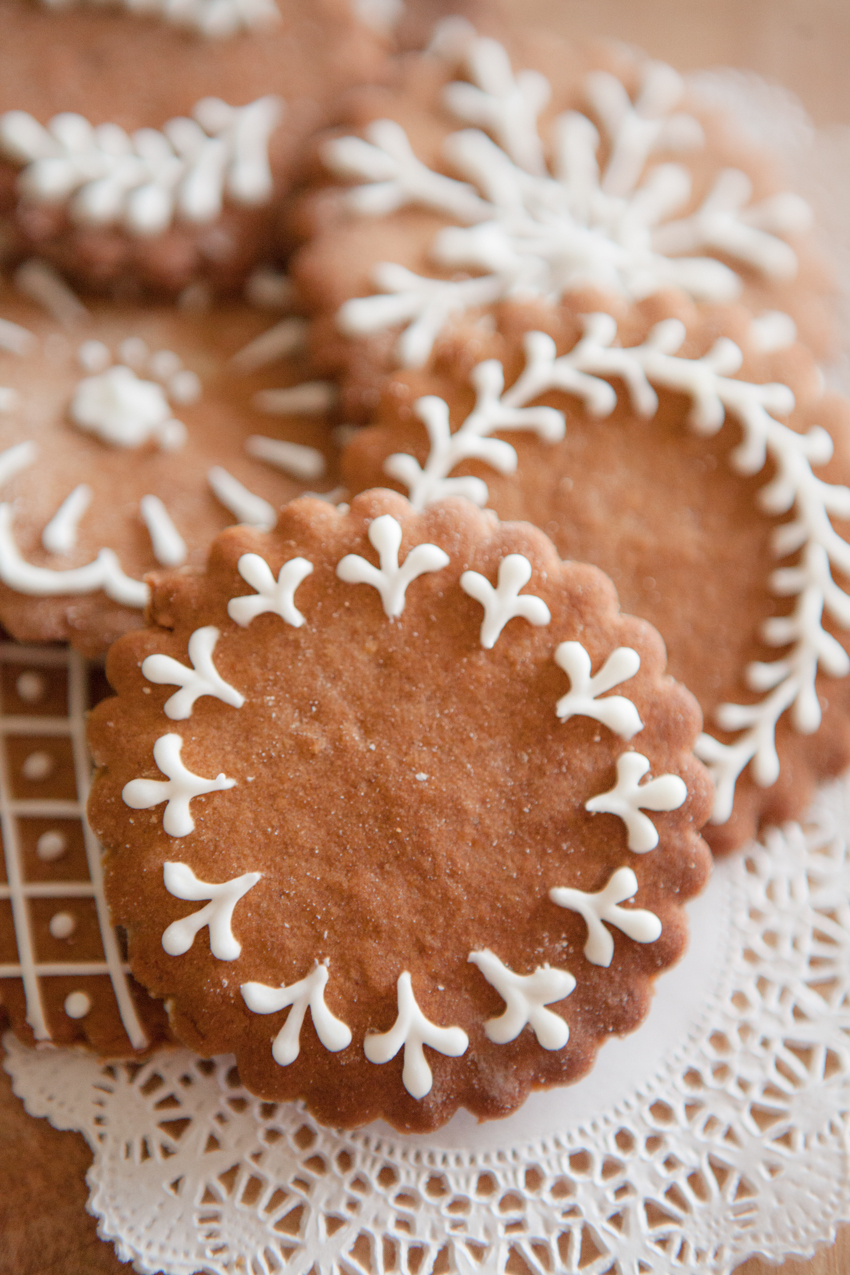 I also did a set of bite-sized heart shapes ones that would be perfect for wrapping up as a gift – if you can manage not to eat them all first :)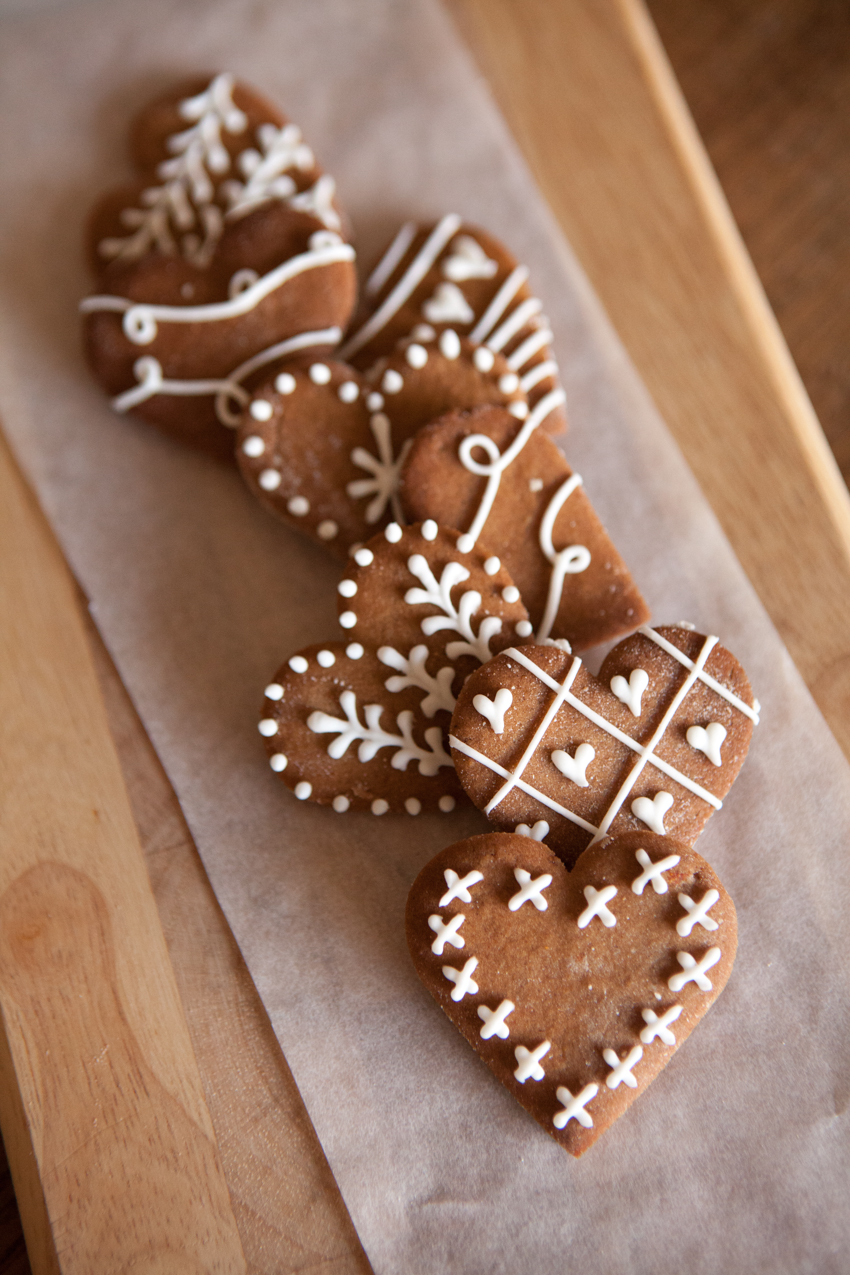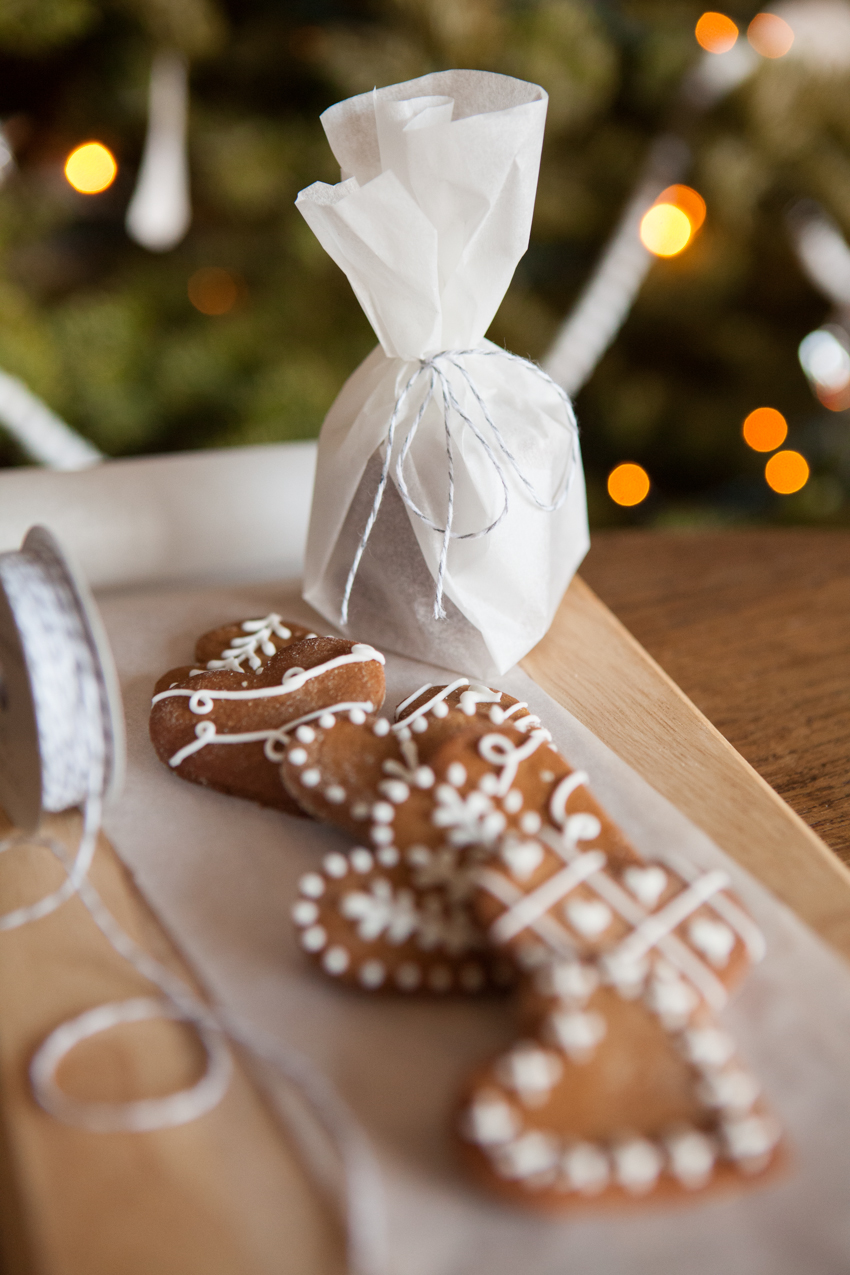 I found the idea for the 'stitched' effect on pinterest – you can see it on my gingerbread inspiration board…
My new cookie experiment this year was related to a holiday souvenir – a mould that I picked up somewhere in France, probably Alsace. I posted an instagram of the dough straight out of the mould before cooking and it had loads of detail but sadly it didn't keep it after baking. I thought that by drizzling some runny icing over the biscuit it would settle into the pattern to show the raised  areas in relief, and I think it worked fairly well.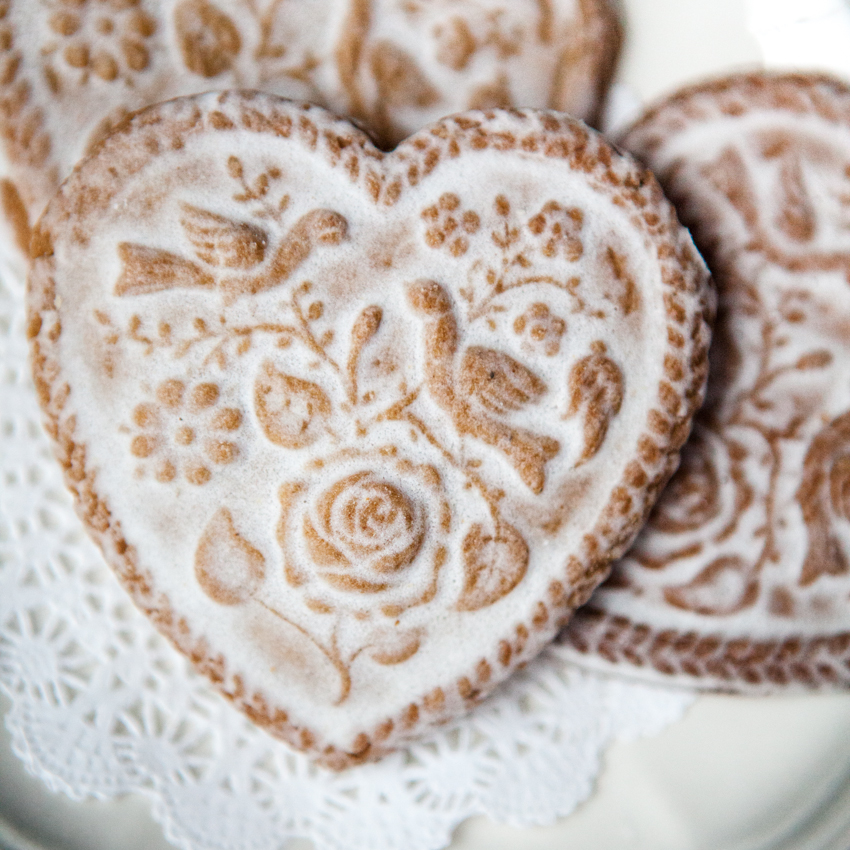 It doesn't have the fine detail but I quite like the sort of rustic effect, makes me think of that lovely whitewashed french farmhouse style :) I'll definitely be trying it  out with some different dough to see what sort of effect I can get. The other thing you could do with it is to mould some sugar paste and lay that on top of plain biscuits or cakes. I'm wishing  I had bought more than one now!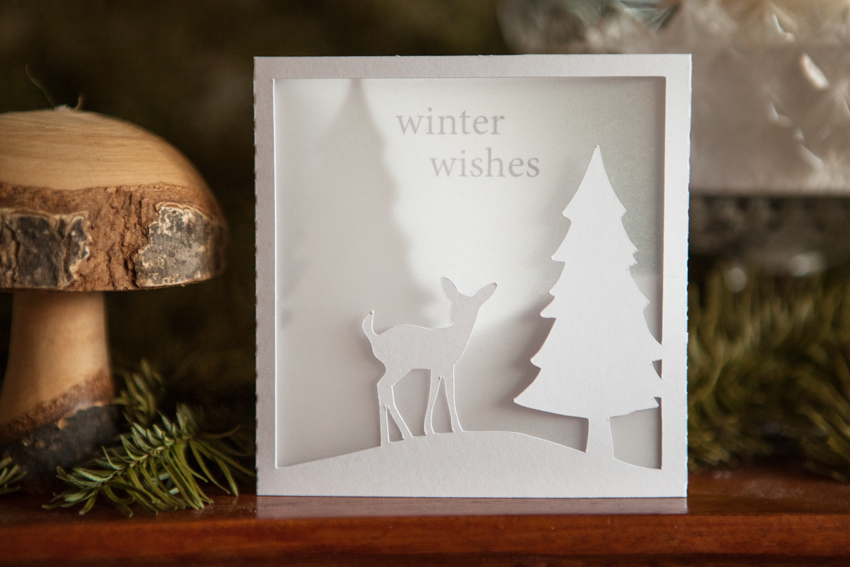 Apart from all the gingerbread I got crafty with my Silhouette Portrait paper cutting machine, I hope to use it for wedding invitations which was the only excuse I had to justify buying one – but it really has come in handy for christmas! I love how it can turn plain white card into something really lovely, and I added a layer of vellum so that I could print a greeting on it too.
Now I'm all crafted out it's time to eat a mountain of clementines (and gingerbread), drink lots of gluhwein, and knit in front of the fire. Have a lovely christmas, whatever you plan to do!