Honeymooning – First stop, Île de Ré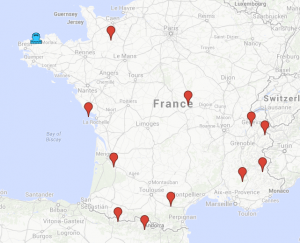 3 weeks, 11 stops, 2 countries, 3000ish miles, 15 crème brûlée (between us, not each), and who knows just how many pastries (lots).
We took the ferry from Cork to Roscoff  which is a lovely overnight journey, especially if you book a table in the nice restaurant as soon as you get on board, and also if you book a 4 berth cabin so one of you doesn't have to sleep in a bunk that folds down out of the ceiling. Ask us how we know…
The boat arrives in Roscoff early on Sunday morning, and straight off we headed for the nearest village for some breakfast. Thankfully, the only thing that actually opens on  Sunday is a boulangerie so we got a head start on the pastry consumption.
The novelty of seeing different crops in the fields (artichokes!) and, well, everything being all french was enough to distract us as we travelled the first few hundred kilometres to our first over night stop on Île de Ré. I'd heard it described as 'the Hamptons of Paris' but all the photos I'd seen were enough to make us book a hotel there.
It looked just as lovely as the photos – seems all the residents got the memo about painting your house white and having lovely shutters on the windows in shades of blue and green. It all looked absolutely superb against the daydreamy blue sky and I couldn't wait to get out with my camera. Unfortunately we hadn't noticed the check in time for the hotel and had to hang around in reception, in our bike gear, drawing fairly suspicious looks from the other residents as they went to and from the spa.
After we finally got to the room for a shower and change into some weather-appropriate attire, we wandered out to explore the streets of the nearest village, Ars-en-ré. Possibly the least picturesque of the towns on the island (the main one was mostly booked up when we checked) it was still really lovely and I couldn't help but go a bit overboard taking photos of windows and doors. Everywhere we noticed little ironwork details, especially door knockers shaped like a tiny hand holding a ball, which I found a bit creepy.
There was a nice spread of restaurants to choose from and before committing we enjoyed an apéritif at one of the bars with tables by the waterfront – I ordered a kir pêche, inspired by Emily and Ketty a while ago in a much colder afternoon in Dublin!
The next day before leaving the island we popped in to the main town of Saint-Martin-de-Ré which was even more picturesque with even more windows and doors and shutters. And lots of touristy shops. I couldn't resist buying a wee donkey with pyjamas on (a stuffed one that is) because: donkeys in pyjamas! Apparently something to do with picking seaweed and beasties biting their legs. We named him Saint Martin and I think he quite enjoyed the rest of the journey with us, even if he was squished in the back box with the cameras and wet weather gear.