edge of the country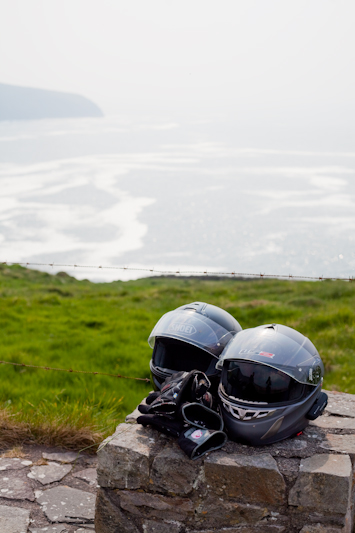 Since i'm not the only one posting about this view, i didn't bother thinking of my own unique title ;)
It's pretty difficult to make anything to do with motorbikes look dreamy and romantic but it is what it is and it's what I've been up to so i'm not going to try and disguise it. I never used to understand the lure of giving up the comforts of a car (a roof, heating, a large boot for luggage, sitting comfortably in a reclined position and being able to knit en route) for two wheels but I'm thoroughly converted after a go of  "The Twisties", even if i had to sadly concede that the sexy-leather-clad-biker-chick-image was never going to materialise if i wanted to stay warm, dry and safe.  Ah well.
Anyway, this view of the ocean with the horizon mostly obscured by haze was exactly what i needed after too many weeks stuck in the city centre. I know that i miss my decent coffee and broadband internet when i'm away in the back of beyond but it really is nice to switch off for a few days. Hopefully i took enough photos to keep me going through the next couple of months chained to a desk…
Next stop, ferry to Roscoff!